wood shake shingles roofing solutions
Free Estimate | Manufacturer Warranties Provided | Competitive Rates
Installing wood shake shingles on your roof is the perfect way to give your home an attractive, rustic curb appeal. Typically made from natural materials, like cedar, wood shake shingles are constructed to have a smooth sawn underlayer, with a rougher cut top layer displayed on the roof's exterior. This construction process replicates the hand-split cut of an ax or mallet.
By displaying their natural, beautiful, rich characteristics, wood shake shingles provide homes with a more traditional, rustic warmth compared to asphalt, clay, concrete, slate and metal residential roofing solutions. What's more, wood shake shingles are extremely durable, 100% sustainable, and environmentally friendly.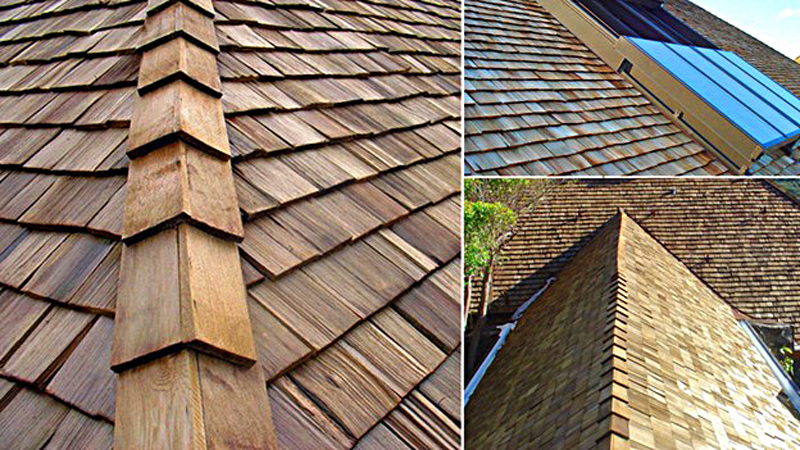 Why Choose Wood Shake Roofing Shingles for Your Home?
As Kansas and Missouri's premier roofing expert, Weather Tech Renovations' Roofing TECHnicians have installed countless residential and commercial roofs, including those constructed with wood shake shingles.
To ensure the highest quality service, Weather Tech Renovations uses only top-of-the-line materials from today's best roofing material manufacturers like CertainTeed, GAF, Owens Corning, and Carlisle.
Wood shake roofing shingles are an attractive choice and are great for traditional style homes. Although this type of roofing material is highly durable and resistant to damage from the elements, wood shake shingles cannot obtain a Class A fire safety rating. It is advisable for homeowners to consult with their insurance agent before installing wood shake shingles as some insurance providers may not fully insure homes with wood shake shingles and deductibles can be higher.
If insurance limits your ability to install a wood shake shingle roof you can consider wood shake "replicas" which are made of synthetic/composite material vs. actual wood. Replica shake shingles will provide a Class A fire rating and still provide the wood shake shingle aesthetic.
Discover all of your residential roofing options by setting up a FREE Roofing Consultation with one of our expert Roofing TECHnicians today!
Listed below are other reasons why homeowners choose wood shake shingle (and wood shake replica) residential roofing solutions:
Wind Resistant – Not only do wood shake shingles and wood shake replicas provide homes with a beautiful natural aesthetic, but they are very durable. Wood shake shingles can withstand winds of up to 130 mph! That is the same wind speed as a Class 4 hurricane. They are also extremely resistant to hail damage.
Algae Resistant – Algae growth is one of the biggest issues that can plague shingle roofs. If left unchecked, algae growth can harm a roof's structural integrity. However, wood shake shingles, as well as most of the roofing material we use at Weather Tech Renovations, are constructed to be algae resistant. Our materials protect your roof and prevent algae from growing.
Fire Resistant – Although traditional wood shake shingles are not fire resistant, wood shake shingle replicas are and can offer Class A fire resistance, which is the highest level of fire damage protection.
Environmentally Friendly – Wood shake shingles are constructed from all-natural materials. This makes them an extremely eco-friendly alternative to other roofing materials. As a renewable resource, wood shake shingles will not deplete our planet's finite resources and they will not cause environmental harm when they hit the end of their life and are disposed of. Wood shake shingles are a fantastic choice for eco-conscious homeowners who want to make a lasting positive environmental impact by supporting sustainable solutions.
Warranties and Workmanship – Wood shake shingles and wood shake replicas are protected by a limited lifetime warranty. A limited lifetime warranty means that the roofing material manufacturer will guarantee the performance and quality of their product for a good number of years after install. For homeowners warranties provide peace of mind.
Installation of Residential Wood Shake Shingle Roofing
When you need a new residential roof for your home, trust the installation to the expert Roofing TECHnicians at Weather Tech Renovations.
Unlike other, often fly-by-night roofing contractors, Weather Tech Renovations is a highly reputable local, family-owned roofing, siding, and window replacement company that is bonded and insured. Check out our A+ Better Business Bureau reputation.
Weather Tech Renovations has proudly served the communities of Kansas and Missouri for over twenty years. With our vast experience and proven reliability, home and business owners know that they can rely on us to provide only the highest quality roofing products and services.
We back every one of our roofing projects with our 5-Year Workmanship Guarantee and honor all manufacturer warranties on roofing materials!
Our TECHnicians are the Superhero's of Roofing
You can always expect nothing less than the very best service and satisfaction from Weather Tech Renovation's Roofing TECHnicians.
Each and every one of our employees is expertly trained in roofing inspection, repair and installation.  We pride ourselves on providing every residential and commercial customer with our "White Glove Treatment", it's what sets us apart from our competition.
Contact Weather Tech Renovations
Satisfaction Guaranteed
HOURS
Monday - Friday: 8:00 am - 6:00 pm
Saturday - Sunday: Closed
Saturday & Sunday by Appointment. 24/7-Emergency Service.