epdm commercial roofing
Free Estimate | Manufacturer Warranties Provided | Competitive Rates
EPDM Durable Synthetic Rubber Commercial Roofing Solutions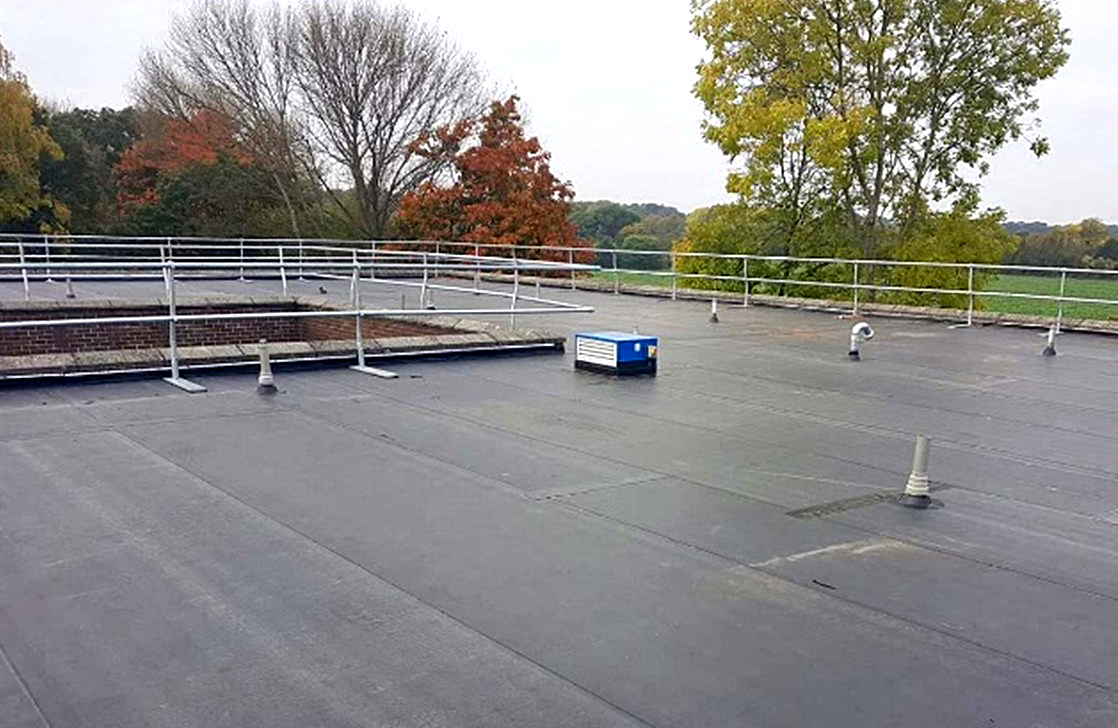 EPDM Roofing Explained
The EPDM (ethylene propylene diene terpolymer) roofing is made from an exceptionally durable synthetic rubber membrane, comprised primarily of ethylene and propylene, whose primary components are derived from oil and natural gas. Its naturally water-resistant nature makes EPDM the ultimate watertight roofing material to protect your commercial property.
EPDM is available in an extensive range of widths from 7' 5" to as wide as 200'. The ability for EPDM to cover small and large spans means it is a good solution for protecting commercial roofs of any size.
EPDM is also an excellent option for "roof-over" applications. It can be applied directly on top of some types of existing roofing, this saves commercial property owners the cost of a roofing tear-off and waste removal.
Most EPDM roofs do not have any slope restrictions, meaning they are the ideal material for low-slope and flat roofs as well as steep sloped roofs. EPDM is an exceptionally durable roofing solution that can withstand harsh elements like hail, high winds up to 100 to 120 mph, UV Radiation, and extreme temperatures. It has zero rating for fungal growth, prevents condensation, and reduces ice and snow accumulation, which halts structural strain that the weight that snow buildup can place on a building's roof. Several EPDM membranes are also great options for high foot traffic commercial roofs.
Why Choose EPDM Roofing for your Commercial Building?
EPDM roofs' flexibility and overall durability make them a premier choice for commercial roofing. The Roofing TECHnicians at Weather Tech Renovations work with only top-of-the-line, quality manufacturers of EPDM roofing materials, like Carlisle, who back their products with dependable manufacturer warranties.
Listed below are some of the more common reasons why commercial property owners choose EPDM for their commercial roofs:
Durability – EPDM roofing is among the most durable roofing systems on the market today. Some thicker EPDM membranes like Carlisle's Sure Tough EPDM Roofing System are rated for high winds up to 120 mph. They can withstand severe temperature variations, UV radiation, heavy foot traffic, and impact from extreme hail. EPDM roofs also prevent condensation accumulation which can build up and wear down the structural integrity of buildings over time.
Energy Efficiency – EPDM roofing helps to save money on utility bills. White and lighter-colored EPDM roofs lower a building's AC electrical consumption by reflecting light and heat absorption from summer's blazing heat. Black and darker-colored EPDM roofs help keep a building warm in the frigid temperatures of winter. These roofs also help prevent ice and snow accumulation.

Long Lifespan – With over 50 years of history, EPDM roofing has been proven to be a viable long-term roofing solution. EPDM, due to its signature durability, typically has a 25-30+ lifespan.

Warranties and Workmanship – EPDM manufacturer warranties range from 5 to 30 years, depending on the type of EPDM roof installed on your building. Manufacturer warranties for EPDM roofing solutions installed by Weather Tech Renovation's highly skilled Roofing TECHnicians are also backed by Weather Tech's "5-Year Workmanship Guarantee". No surprises, only satisfaction when you trust Weather Tech Renovations with your commercial roofing installation or repair.
Getting Started with an EPDM Roofing Solution
When you need a new commercial roof, don't trust the protection and well-being of your investment to just any contractor. Rely on the reputable, expert TECHnicians at Weather Tech Renovations.
Weather Tech Renovations is bonded and insured, we are a local, family-owned roofing, siding, and window replacement company that has served Kansas and Missouri business owners for over twenty years.
Our team of Roofing TECHnicians install high-quality, warrantied commercial roofing solutions and are highly skilled in the repair and maintenance of all types of roofing.
Need Commercial or Residential Services? Give us a Call at (816) 988-8957
Our TECHnicians are the Superhero's of Roofing
Expect nothing less than the very best service and satisfaction from Weather Tech Renovations.
Each and every one of our employees are expertly trained in residential and commercial roofing inspection, repair, and installation. We pride ourselves on providing every commercial and residential customer with our "White Glove Treatment." It's what sets us apart from our competition.
Contact Weather Tech Renovations
Satisfaction Guaranteed
HOURS
Monday - Friday: 8:00 am - 6:00 pm
Saturday - Sunday: Closed
Saturday & Sunday by Appointment. 24/7-Emergency Service.