slate roofing solutions
Free Estimate | Manufacturer Warranties Provided | Competitive Rates

Slate Tile Roofs Explained
For a classic-looking aesthetic, a slate tile roof is an elegant choice for your home. Slate tiles have been used for centuries on homes across the world. The oldest known record of slate tiles being used as roofing material dates back to 1300 CE. This makes slate tiles one of the most durable, time-tested roofing materials used on the market today.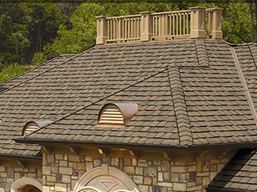 Authentic slate roofs are beautiful, resilient, and long-lasting. Available in colors ranging from standard grays and blacks to various hues of purples, blues, and greens, slate tiles can suit a wide range of tastes. Slate tiles are also available in square or rounded (scalloped) shapes to suit your home's aesthetic.
With an average installment lifespan of 50 years, slate tiles are among the sturdiest residential roofing materials available. However, slate roofs, like clay and concrete tiles, are among the heaviest roofing materials on the market today, and not all homes can handle their added weight. If this is the case for your home, don't worry. Weather Tech Renovation's expert Roofing TECHnicians can discuss all roofing options during your FREE roofing inspection and project estimate. They can discuss whether your home's structural integrity can handle the added weight of a slate tile roof, or whether you may want to use a more lightweight alternative that resembles slate tile.
Why Choose Slate Tile for the Roof of Your Home?
With its classic aesthetic and wide range of colors to choose from, it's understandable why slate tiles are the premier choice for homeowners today. However, there are additional benefits to choosing slate tiles for your residential roofing solution.
Listed below are some of the more common reasons why homeowners choose slate tiles for their residential roofs:
Durability – Slate tiles are one of the most durable residential roofing materials available today. Slate tiles are highly resistant to weathering, high winds, and hail damage. Some premier slate tiles have been rated to resist winds up to 130 MPH. In addition, these same slate tiles have also been rated with a Class 4 impact resistance, the highest protection you can get to resist hail damage. Refer to the Impact-Resistant Ratings below.
Long Lifespan – Slate tiles have one of the longest lifespans of any residential roofing material. Slate tiles have been known to last up to 50 years or more. Slate tiles add long-term value to your home as they don't need to be replaced for a very long time, just repaired when needed.
Warranties and Workmanship – Our team works with only the best slate roofing tile product manufacturers, like CertainTeed, GAF, Owens Corning, and Carlisle. These top-of-the-line slate tile manufacturers back their products with supreme warranties that last 5 to 10 years. The highly skilled Roofing TECHnicians at Weather Tech Renovations also back all our services with our premier "5-Year Workmanship Guarantee". No surprises, only satisfaction when you trust Weather Tech Renovations with your residential roofing installation or repair.
Slate Roofing Tile Impact-Resistant Ratings
Slate roofing tiles, depending on the quality, can have up to a Class 4 impact resistance rating, the highest protection you can get to resist hail damage. There are different levels of impact resistance: from Class 1 to Class 4. Class 4 is the highest level of impact resistance, able to withstand the impact from a 2-inch steel ball dropped from 20 feet without splitting or tearing.
Class 1 Impact Resistant Shingles: Withstand damage from 1.25 inch diameter steel balls dropped from 20 feet onto shingles.
Class 2 Impact Resistant Shingles: Withstand damage from 1. 5 inch diameter steel balls dropped from 20 feet onto shingles.
Class 3 Impact Resistant Shingles: Withstand damage from 1.75 inch diameter steel balls dropped from 20 feet onto shingles.
Class 4 Impact Resistant Shingles: Withstand damage from 2 inch diameter steel balls dropped from 20 feet onto shingles.
Hail Threat Defined by Size:
Source: Nation Weather Service

Installation of Slate Tile Roofing Solutions
When you need a new residential roof, don't trust the project to just any contractor. Rely on a reputable, skilled, licensed and insured contractor like Weather Tech Renovations. Weather Tech Renovations is a local, family-owned roofing, siding, and window replacement company that has served Kansas and Missouri business owners for over twenty years.
Our team of Roofing TECHnicians install high-quality, warrantied residential and commercial roofing solutions and provide repair and maintenance for all types of roofing.
Our TECHnicians are the Superhero's of Roofing
You can always expect nothing less than the very best service and satisfaction from Weather Tech Renovation's Roofing TECHnicians.
Each and every one of our employees is expertly trained in roofing inspection, repair and installation.  We pride ourselves on providing every residential and commercial customer with our "White Glove Treatment", it's what sets us apart from our competition.
Contact Weather Tech Renovations
Satisfaction Guaranteed
HOURS
Monday - Friday: 8:00 am - 6:00 pm
Saturday - Sunday: Closed
Saturday & Sunday by Appointment. 24/7-Emergency Service.