quality services for roofing, siding & windows
Free Estimate | Manufacturer Warranties Provided | Competitive Rates
We Have a Passion for Perfection
Over time, the exterior of your home or business can begin showing its age. Don't let your property become an eyesore. Make it the envy of all of your neighbors with custom roofing, siding and window services from Weather Tech Renovations LLC. Our pros deliver quality workmanship and expertise to solve all your residential or commercial roofing and exterior needs at a fair price while keeping your everyday business on track. Our business has touched tens of thousands of roofs, ranging from steep slope and flat roof, residential and multi-family, to commercial. 
On-Site Contracting Experts
We always have an expert on site and ready to answer any and all your questions you might have.
24/7 Emergency Services
Give us a call 24/7 in the event of an emergency, A Weather Tech Specialist will be there day or night.
Kansas City Area Residential & Commercial Services
Weather Tech Renovations LLC provides residential and commercial roofing, siding, window replacement, and storm damage services to Kansas City and surrounding areas.
Residential Roofing
Improve your home's longevity and increase its overall value and look with outstanding residential roofing services from Weather Tech Renovations, LLC .
Commercial Roofing
We specialize in commercial roofing in Kansas & Missouri and are able to provide unmatched, unbeat service when meeting your roofing needs.
Window Replacement
Choose from a wide variety of window pane products and styles to customize what you feel is best suited not only for your home but your style as well.
Siding Replacement
Transform your home's appearance and improve its energy efficiency with exceptional residential siding from Weather Tech Renovations.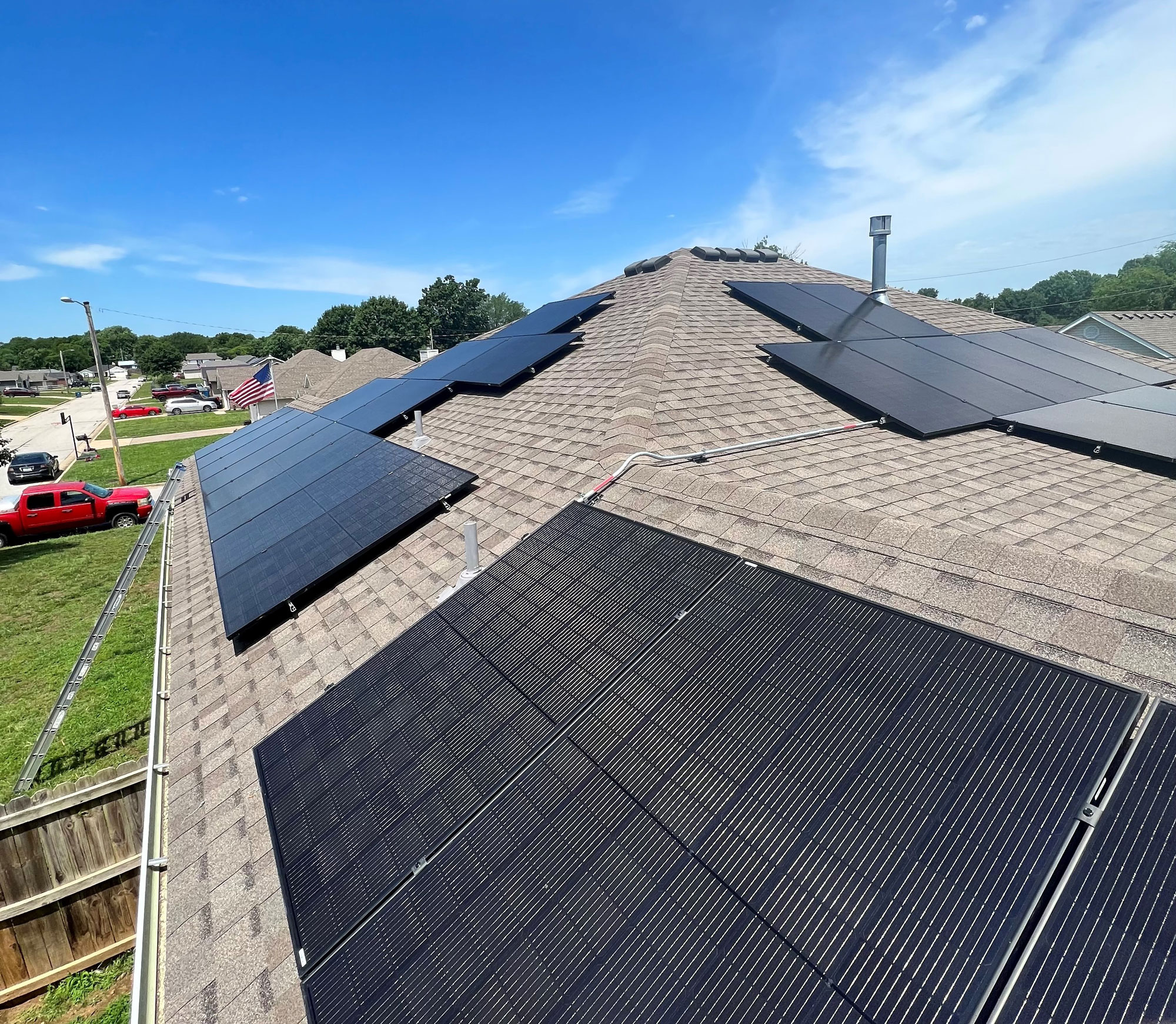 Weather Tech Renovations LLC provides residential solar panel installation for the Kansas and Missouri states. We have years of experience and will guide you to the best possible solutions on where your roof will see the most sunlight, making the most of your solar panels.
If you or someone you know is looking for a quote on installation or is ready to pull the trigger, please give us a call today (816) 988-8957 or fill out the Free estimate form by clicking on the button below.
Thank you!

About Weather Tech Renovations
Weather Tech Renovations LLC provides residential and commercial roofing, siding, window replacement, and storm damage services to Blue Springs, MO, and surrounding areas.
Why Weather Tech Renovations LLC Is Your Choice
for Outstanding Residential Exterior Services
Over 20 Years of Experience
Licensed, Bonded and Insured
Always Speak to a Live Person
Screened Home Advisor Approved
Here's What Our Satisfied Clients Are Saying…
"Excellent and prompt service from Treavor. He put our mind at ease about the temporary and permanent repairs. The owners did a great job following up and keeping us informed. The roofers did a great job."
"I haven't had my project started yet, but the first step of estimating with James Medrano was wonderful. James was both professional and extremely friendly and helpful at the same time. Dealing with him couldn't have been a better experience."
Contact Weather Tech Renovations
Satisfaction Guaranteed
Weather Tech Renovations Uses Only the BEST Brands
HOURS
Monday - Friday: 8:00 am - 6:00 pm
Saturday - Sunday: Closed
Saturday & Sunday by Appointment. 24/7-Emergency Service.